Zurück zur Liste
NL
FR
BE
EuroVelo 19 – Meuse Cycle Route: Come as you are!
Donnerstag, 23. März 2023
EuroVelo 19 – Meuse Cycle Route is one of the newest members of the EuroVelo family since joining the network in 2019; it is also one of the shortest EuroVelo routes. But make no mistake: there is a lot to do and see on 1,050 km. It is in the top five most popular routes on EuroVelo.com for more than one reason.
EuroVelo 19 goes through three countries (France, Belgium, and Netherlands) following the Meuse River from its source on the Langres plateau to its mouth in the North Sea. You can expect to find beautiful natural reserves but also bustling cities and charming towns.
Wait no more – jump on your bicycle to discover the historical richness of these regions and have fun in the different activities you will find on the route. After a day of cycling, pitch your tent in a remote area, enjoy the luxury of a fancy hotel or have a memorable night in an unusual accommodation.
Dive into history in France
Number one rule for cycling tourists in France: look for the Accueil Velo label for accommodation. This way, you are sure to benefit from cycling-friendly services – shelter for your precious bike, the possibility to recharge your e-bike, a repair kit, and much more.
If you are a fan of old castles and great battles, the French section of EuroVelo 19 is for you. It is the region of Joan of Arc, and you can visit her childhood house in Domremy-la-Pucelle and learn more about her life at the Vaucouleurs museum. But Joan is just one of many famous people in the area. The French poet Arthur Rimbaud was born in Charleville-Mezieres, where you can find a museum dedicated to his life and work.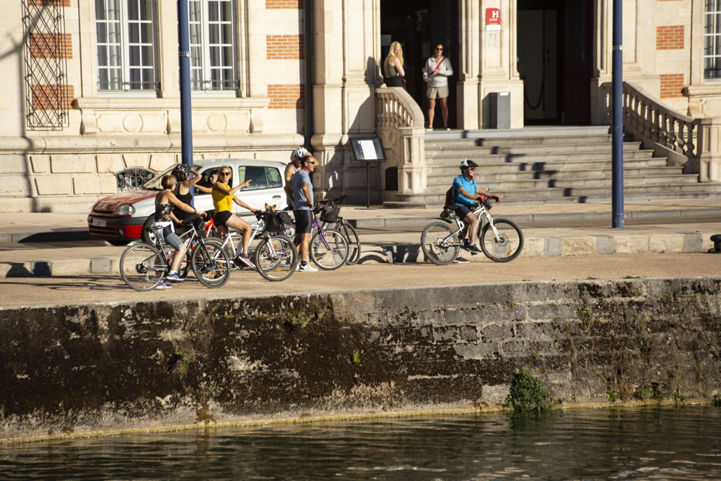 It's a sunny day, and you don't want to spend it inside? Then go for a sight visit of Verdun battlefield to discover more about the Poilus. If you are cycling in May, make a stop at the Sedan castle to enjoy a medieval festival (3rd weekend of May).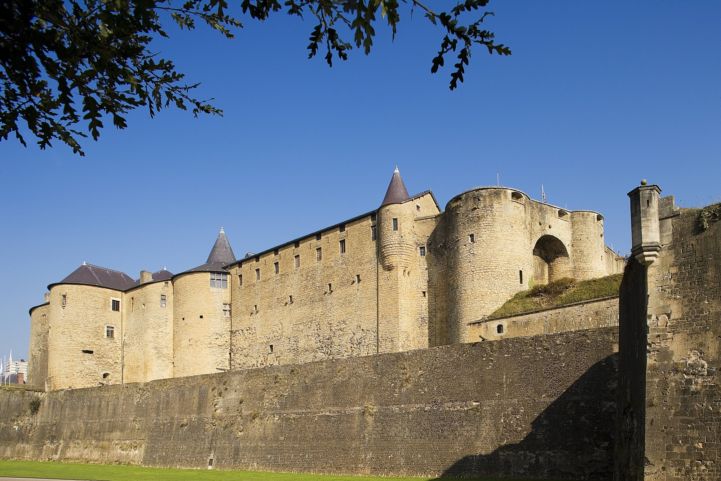 To stay in this historical mood, why not book a Bed and Breakfast in a castle and pretend you are a member of Charles VII's court waiting for the audience between Joan of Arc and the King?
Going on cycling holidays does not mean you have to ride your bike 24/7. Don't hesitate to stop near a lake (there are many of them along EuroVelo 19) where you will easily find some camping areas - what's a better wake-up than the sunrise on the water? Take a day off your saddle and rent a paddle for a few hours or discover the Meuse from another perspective by embarking on a cruise.
Shopping and family activities in Belgium
If you are passionate about architecture, don't miss the belfries, typical architecture in Belgium and northern France. On the route, you can see one in Namur, registered as World Heritage by UNESCO.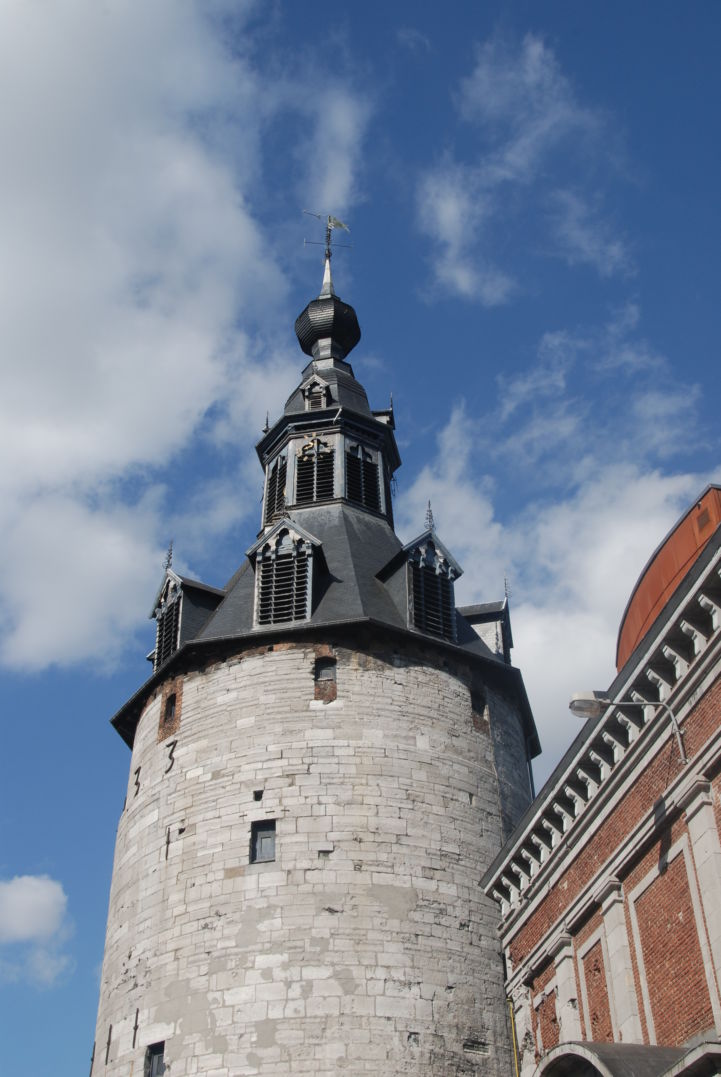 In Wallonia, look for accommodations with the Bienvenue Velo sign, where you and your two-wheels companion will be welcomed. Everyone can find what they like, from very simple camping to fancy hostels. You can even turn your night into a memorable event by staying in a houseboat on the Meuse near Dinant.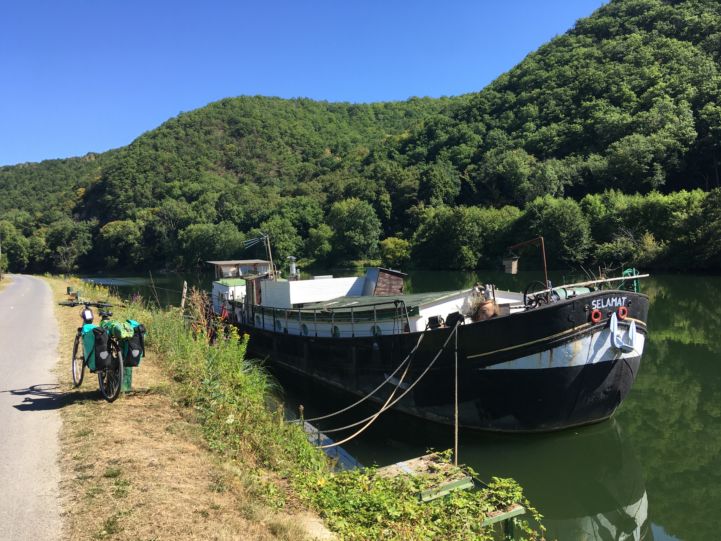 If you travel with children, stopping at Blegny might be a good idea. There you can explore the ancient galleries of a coal mine and learn more about this important activity for Belgium's history. After that, take a break at Robinson Island, a little gem where you can try different nautical activities. And whether you are a kid or a grownup, you will want to taste the famous Liège waffles.
Shopping on a cycling trip might not be the easiest thing in the world, what you buy you need to carry. But if you're feeling up to the challenge, then go to Maasmechelen Village, home to more than 100 boutiques of world-leading brands!
Take a break from the world in the Meuse Valley River Park between The Netherlands and Belgium
The Meuse Valley River Park is one of the highlights of EuroVelo 19 – Meuse Cycle Route. There the river was left wild, not straightened for shipping. Get lost into a tangle of levees, channels, and old distributaries without being bothered by cars. Icing on the cake? You can cross the river and cycle on both banks in Belgium and the Netherlands.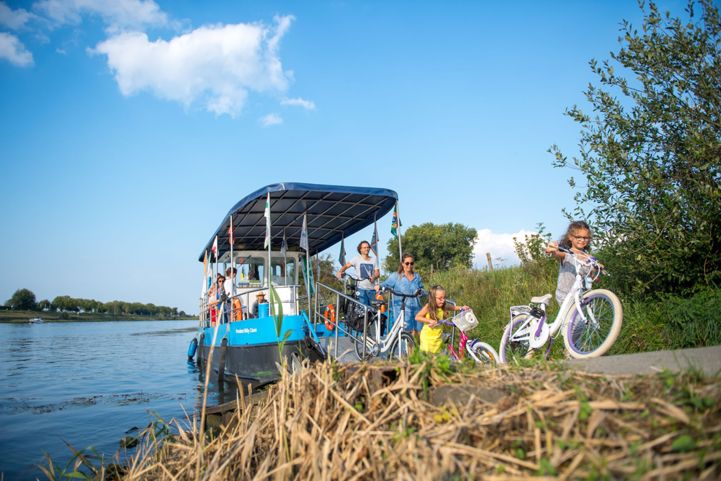 Belgium is the country of beer. No question about that. But did you know that the Meuse valley is also known for its wine? Visit the Aldeyneck wine estate, where you can discover the distillation process from the grape to the bottle. And you get to taste it of course!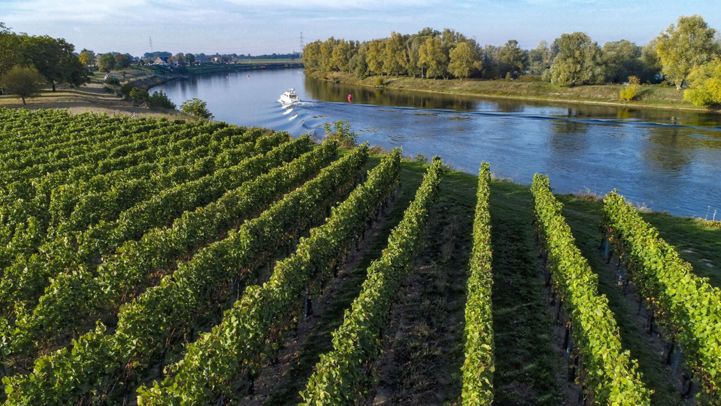 In Flanders, you can refer to this website which provides a list of accommodations with bicycle-friendly services under a separate category, 'Walking and cycling'. To stay in the out-of-time atmosphere of the Meuse Valley, you can even spend the night in a 500-year-old mill.
Engineering marvel and original architecture in the Netherlands
Start your trip in the country of mills and tulips with the vibrant city of Maastricht. Historical buildings, designer shops, nice restaurants: everything you need for a city trip. Maastricht Bonnefantenmuseun, designed by the Italian architect Aldo Rossi, is as interesting from the outside as from the inside. From the top of the building – home of a nice collection of antique, modern and contemporary art – you will dominate the city's skyline. Time for a photo shoot!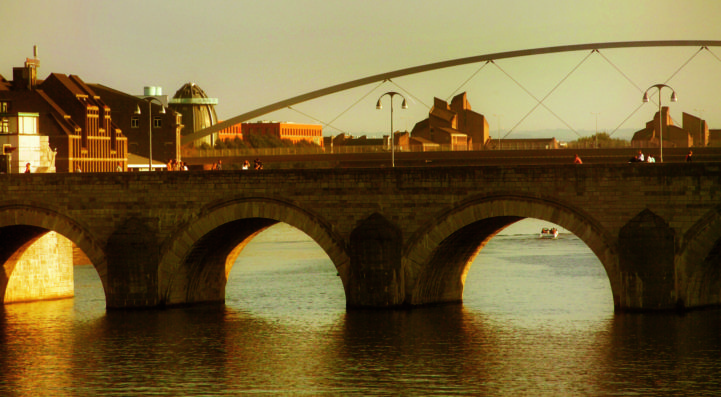 You would not be surprised to read that you can find all types of cycling-friendly accommodations in The Netherlands, just follow the Fietsers Welkom! quality label. If you want a unique experience, give a shot at natural campsites. You will be able to relax in beautiful landscapes, away from the city noise, while still having basic facilities like running water and toilets. Or maybe you want to experience a different lifestyle for a while? If this is the case, why not book a stay on a farm where you can meet with locals?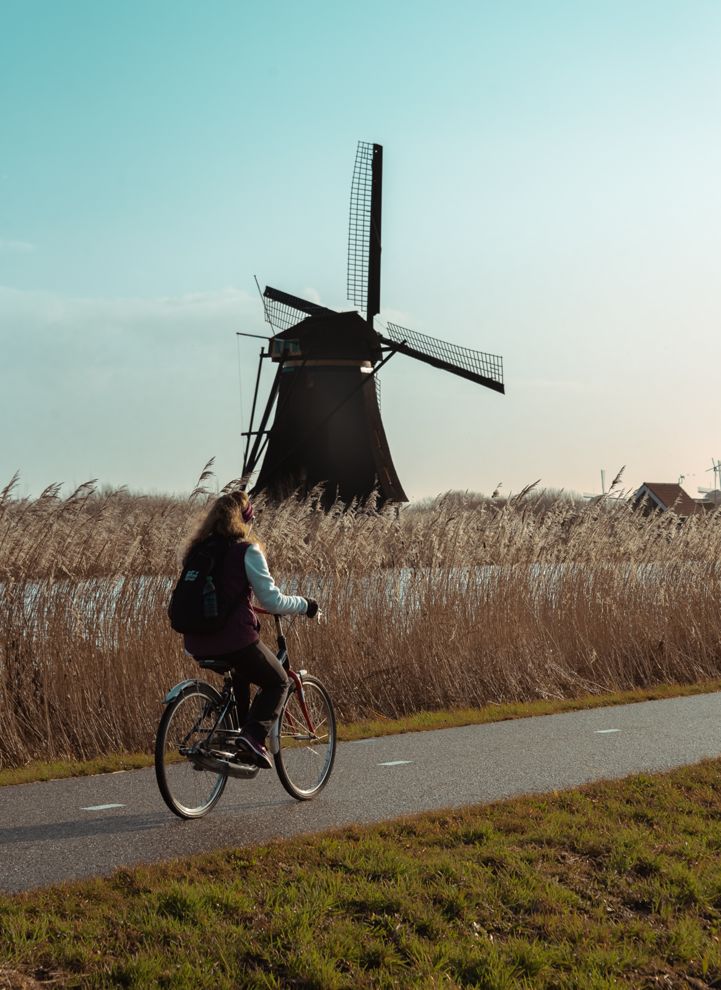 Did you know that by cycling along EuroVelo 19, you will get the chance to see a marvel of engineering? Maeslantkering (Maeslant barrier in Dutch) is the largest mobile flood barrier in the world. This impressive engineering protects Rotterdam when the tide is too high and it is open to the public for visits.
With its cultural and natural richness, EuroVelo 19 – Meuse Cycle Route is really perfect for every kind of cyclist and for every kind of holiday.
Cover picture: Rivierpark Maasvallei in Limburg, Netherlands
Author: Eulalie Ollivier