Zurück zur Liste
FR
5 steps to plan your cycling trip on EuroVelo 19 – Meuse Cycle Route
Freitag, 25. März 2022
Springtime has come! As the banks of the Meuse River are certainly full of blossoming flowers right now, you'll find here all the tips to plan a successful cycling trip.
No matter if the cold endures a little bit more, flowers blossoming in parks and on street sides are already aware of it: springtime has come! And who says spring, says a growing desire to go cycling in new, yet to discover landscapes. As the banks of the Meuse River are certainly full of blossoming flowers right now, you'll find here all the tips to plan a successful cycling trip on EuroVelo 19.
The Meuse Cycle Route is a 1,050-km itinerary crossing three countries, from the Plateau of Langres in France where the Meuse River springs from the ground, through the heart of Belgium and to the River's outlet in the Dutch North Sea. There are many reasons to choose EuroVelo 19 – Meuse Cycle Route for your next cycling trip. The shortness of the route allows you to cycle the whole of it in two or three weeks, depending how fast you like to ride, which is (let us be honest) a satisfying feeling. It is easily accessible by sustainable modes of transportation from various parts of Europe as you can travel to Paris, Brussels, Liège, Maastricht or Rotterdam to reach it. This river route is flat, cycle lanes are for the most part segregated and easy to cycle, making it a perfect ride for families. And last but not least, the itinerary is dotted with plenty of castles, citadels, natural areas and delicious specialties to try!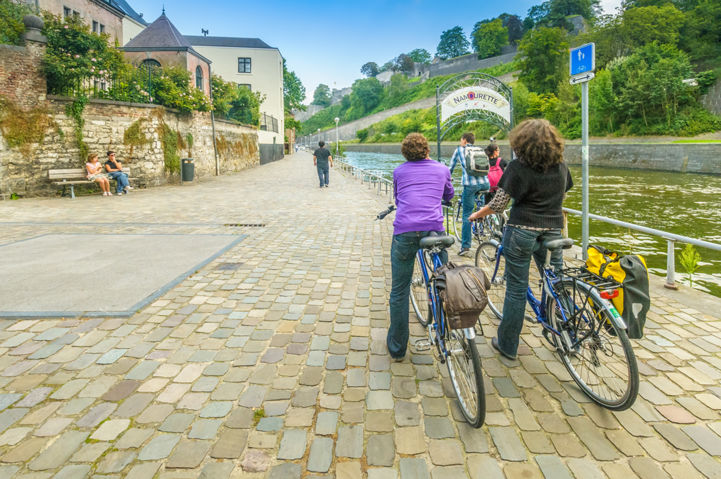 Step 1: do some soul searching and identify your cycling wishes
When planning a cycling trip, the first step is to decide upon the length and direction of your journey. Will you follow the Meuse as it flows or in the reverse direction, starting from the Netherlands? Will you cycle the whole route or only part of it? Are you rather a 100-km-a-day type of cyclist or do you prefer to plan shorter daily sections, allowing you to stop for coffees and cultural visits? To guide your decisions you can read the presentations of each thematic stage along the route, starting here on the EuroVelo 19 webpage. Zoom in on the maps to discover which cultural sites, natural heritage and culinary delights you can enjoy along that stage. Does one of them resonate more with your tastes? Get further inspired by exploring the national EuroVelo 19 websites including suggestions for daily sections and detailed descriptions.
The French portal divides the first bit of the route into 14 short sections that can be combined according to your preferences. In Belgium, 6 short sections await you with a mix of cliff, castles and bucolic countryside. And the Dutch website proposes a division of the route into 8 one-day sections that can serve as a basis for planning.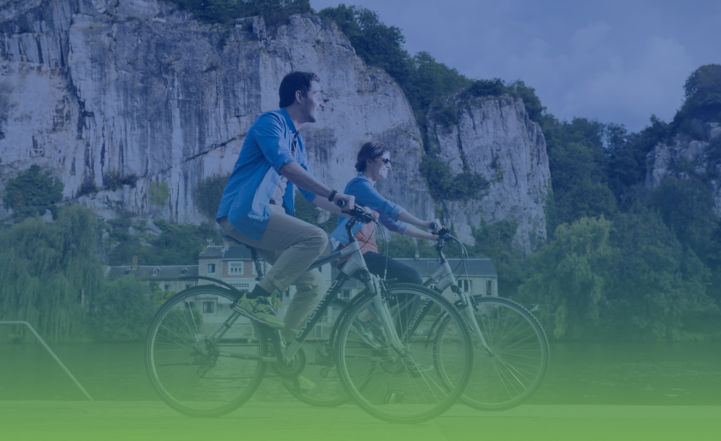 The entire EuroVelo 19 – Meuse Cycle Route is well-developed and signed with EuroVelo signs in both directions, so you can plan your journey any way you wish! But between Maastricht and Roermond, along the Dutch-Belgian border, you will need to choose between the two countries because the route subdivides into different itineraries, following either the left or the right bank of the Meuse River. Fortunately, this decision does not need to be final: there are ferries connecting the two banks and allowing you to get a glimpse of the other side…
Step 2: book your journey to and from the cycling route
Now that you know which part of the route you are going to cycle, it is time to plan your actual journey! If you start from France, you can reach La Meuse à Vélo by train, getting off at one of the main towns' stations: Langres, Neufchâteau, Verdun, Sedan, Charleville-Mézières or Givet. The cities of Sedan and Charleville-Mézières are directly connected to Paris with the TER railway line Sedan - Charleville-Mézières - Reims - Paris Est, for which the schedule is available here. Bicycle transport is free and without reservation within the limits of available places in the TER. In case you plan a leg of your journey with an Intercity train or a TGV, be sure to check this possibility beforehand because the national trains are submitted to different conditions. Information on bringing your bicycle aboard all types of French trains is available on this page.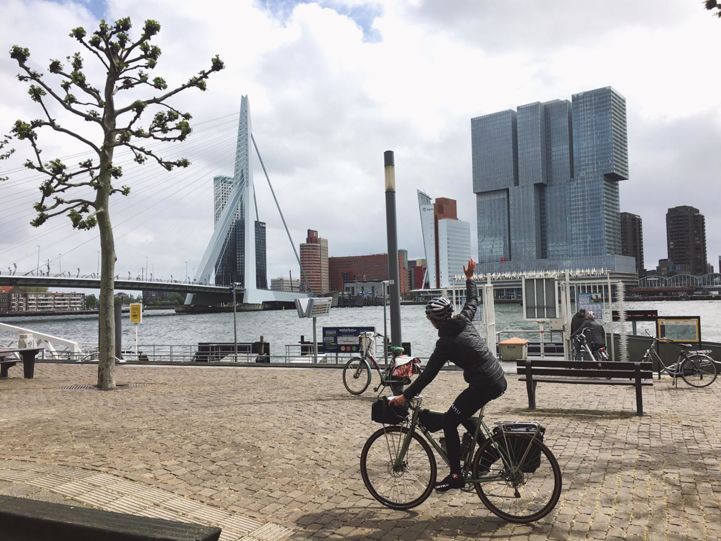 If on the other hand you are starting your trip from the Dutch North Sea, you can take a train to Rotterdam or any other main town along the route and start from there. The Rotterdam and Maastricht train stations offer good international connections. In the Netherlands, you can bring your bicycle along in trains during off-peak hours (peak hours are on weekdays except in July/August, from 6:30 to 9:00 and 16:30 to 18:00). Practical information is available on this page.
In case you decide to start in Belgium to cycle part of the route, you can easily reach the cities of Namur and Liège-Guillemins by train via Brussels. Liège-Guillemins is also well connected to Maastricht, Aachen and Luxembourg. The Thalys linking Paris, Aachen, Cologne, Dortmund, Duisburg, Düsseldorf and Essen stops in Liège-Guillemins as well. In Belgium, bicycles can be carried in all national trains for a small fee. The route and schedule of all railway lines are available on this page, and advice on bicycle carriage in the trains here.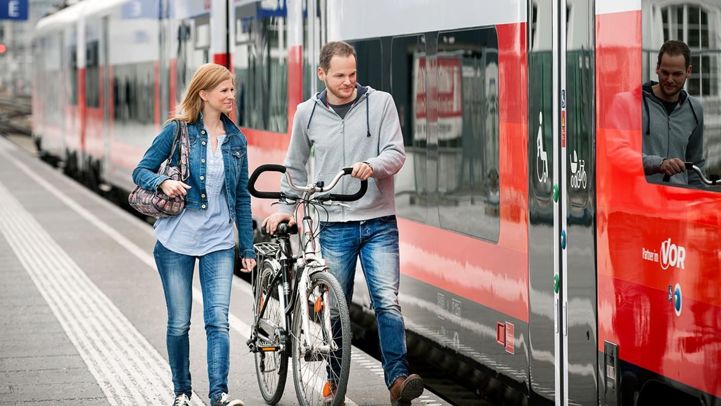 While on your cycling trip, you also have the option to skip parts of the route, whether you are more excited to discover another stage or you are running out of time. National and local trains, and sometimes even ferries, allow you to travel along the route with your bicycle. The cross-border public transport module on www.EuroVelo19.com provides information on train stations along the whole route, which appear as green icons topped with a train symbol on the stage and country pages' maps. Those pages also include a "public transport" tab with links to the train services' websites.
In the Netherlands, you can also opt for a little adventure on the Meuse River by taking the WaterBus that can bring you from Rotterdam to Dordrecht, or any of the many ferries crossing the river that you can browse on this map!
Step 3: make sure you have a back-up plan in case you lose sight of the signs
EuroVelo 19 – Meuse Cycle Route being completely signed with EuroVelo signs, you do not really need anything else than your eyes to cycle along. But it may feel better to bring a route map, a GPS device or a smartphone with a navigation tool with you, in case you have trouble finding the start of the route or if you miss a turn! The Esterbaueur Bikeline guidebook on EuroVelo 19 – Meuse Cycle Route is the ultimate offline resource on the route, including very detailed and up-to-date information about attractions, accommodations and other bike friendly services along the itinerary, as well as route descriptions and maps (showing traffic and road quality). This guide is only available in German.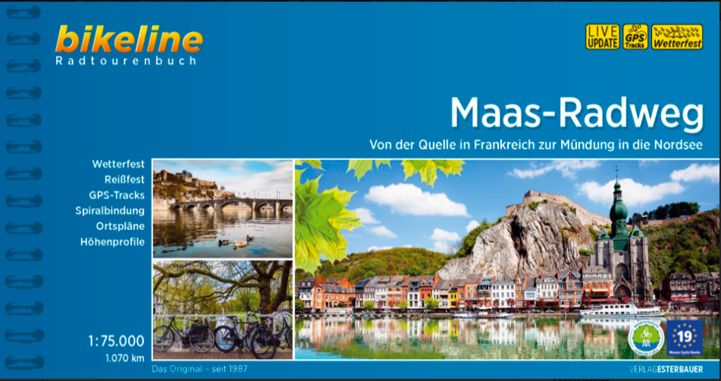 If you are focusing on a national section, you can acquire more specific maps and guides:
• The Meuse practical guide for France, available either online or as a hard copy and containing plenty of cultural and historical information on the route. This guide can be supplemented by the tourist map available on request.
• For Belgium, the maps and guides of the RAVeL cycling network (general maps can be obtained for free on request).
• The LF-Maasroute cycling guide for the Netherlands, providing descriptions of the route, the river landscape and the old fortified towns, as well as a collection of maps. In case you prefer using your own GPS device or a navigation tool on your smartphone, the GPX tracks of the route can be downloaded for free on the following pages: France & Belgium. For the Dutch part of the route, you can fill in a request form on the right side of this page to ask for the tracks to be sent to you. Not sure which site or application to use to import and view your GPX files? The EuroVelo Belgium website has published a useful list of suggestions for this!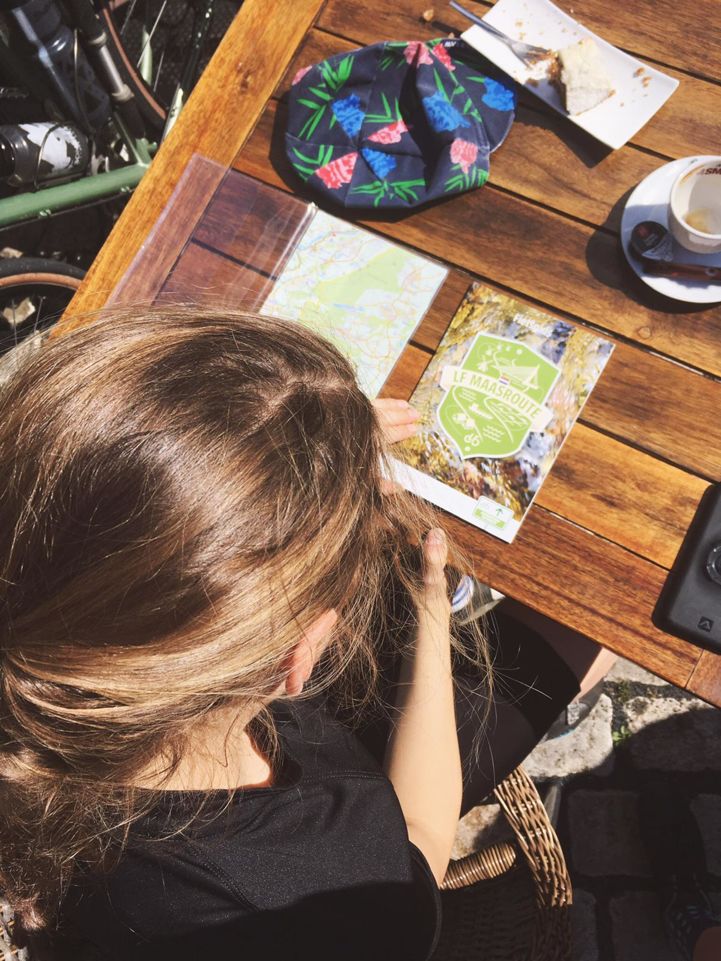 Step 4: decide how you're going to eat and where you're going to sleep
Although this can be improvised along the way, you may want to plan in advance where you will make stops to sleep, and maybe even to eat, during your journey. It can also be a good idea to write down a few links, addresses and phone numbers even if you are not making a precise plan beforehand. The three national websites provide interactive maps on which you can filter catering establishments and all kinds of bicycle friendly lodgings and campsites, as well as bicycle repair shops (very useful to make a note of those in case you get stranded on the route because of a bike defect) and other attractions. You can browse those for France (look on the right of the map),Belgium(information provided by section) and the Netherlands.
On their way, travellers can find cyclists friendly In France, (Accueil Vélo), in Belgium (Bienvenue Vélo)and in the Netherlands (Fietsers Welkom). These labels highlight establishments that offer equipment services and services suitable for welcoming cyclists. Each one is no further than 5 km from the itinerary, and provide secure parking for your bikes, basic tools to for bike repair, and much more. Certification is awarded based on accommodation, establishments in the hotel and catering industry, tourist organisations, suppliers, and artisans. You can recognise certified establishments thanks to the sticker displayed at the entrance.
Wild camping is not authorised in the Meuse Cycle Route countries, but you also have the option to meet fellow bicycle travellers by staying at their place for free, thanks for instance to the Welcome to My Garden portal or the Warmshowers community.
Step 5: pack your bags and hop on your bike!
Have you completed steps one to four? Then it looks like you're ready! Now is the time to leave the screens behind and enjoy your trip. And if you like taking pictures, do not hesitate to share them with us on social media, using #EuroVelo and tagging us on Instagram, Facebook or Twitter! If you ride the entire Dutch part of EuroVelo 19 – Meuse Cycle Route, you can even apply for a certificate and a frame sticker of the route! More information available here.
Author: Florence Grégoire