Zurück zur Liste
BE
DK
DE
NO
Cycling towards the midnight sun
Mittwoch, 21. Dezember 2022
Fabian Küster, ECF Advocacy and EU Affairs Director, took a long break last year to rest, disconnect and reconnect. With free time ahead and such a purpose in mind, Fabian planned a one-month long-distance cycle adventure all the way to Tromsø in the Arctic Circle to check "cycling under the midnight sun" off his bucket list. In this article, Fabian shares his experience first-hand and some very interesting tips that will help you plan your next cycling trip in Norway!
A few years ago, during winter time, I spent a couple of days with my wife in Tromsø, Norway. Tromsø is the third largest city in the Arctic Circle, boasting a population of around 75,000 – and referred to by some as the "Paris of the North". Whether the city is an attraction in its own right might be up for discussion, but there are definitely other reasons to head North: the magic aurora borealis during the winter months; and the equally magic midnight sun during summer time. The former I luckily managed to see during that visit to Tromsø during our last night. The light didn't quite dance and it wasn't as light a green as on some postcards. But still, unforgettable. Check. This left the midnight sun still on my bucket list – until this summer.
This past year I took six months off from work. I had a few milestones planned– visiting friends I hadn't seen in a long time, spending more time with my family and my parents, doing some practical works in our house. But from the outset it was clear there should be also a bike adventure. One month. Solo. Final destination: Tromsø.
Preparations
Once a destination firmly in mind, I could start making preparations. My last bike tour worthy of the name was in 1997, so it's no understatement to say I am quite an inexperienced bike tourer with limited condition (although I cycle on an almost daily basis) and even less adequate equipment. To get everything in place took me a couple of months of preparations.
Going to the far north meant being prepared for possibly rainy and cool weather. Good rain gear, a light but sturdy one-person tent, a warm sleeping bag and comfy mattress was among the essentials. It later proved I hadn't invested one Euro too much. I also got five bicycle bags: two front and rear rollers each, as well as one for the handlebar. My bike is a Finna gravel bike, which allows for good cycling both on tarmac as well as dirt tracks. For navigation I used Komoot, a treasure chest in which I found endless inspiration which helped tremendously with the preparation – and the premium version comes with travel insurance to pick you up wherever you get stranded. Fortunately I wouldn't need it.
The route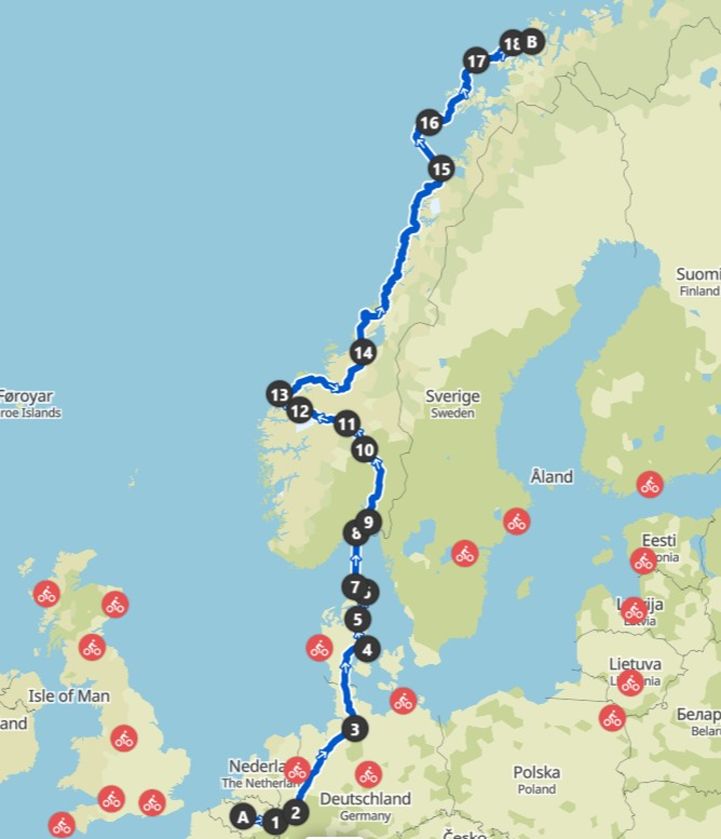 Since it's close to 4,000km from Brussels to Tromsø, it was clear from the outset this would be too much for one month of cycling, so I had to combine my bike trip with other means of transport. Trains, of course, and many boats and ferries. I ended up cycling a total of 1,850km, with sections on EuroVelo 12 – North Sea Cycle Route in Denmark and Norway, as well as EuroVelo 3 – Pilgrims Route and EuroVelo 1 – Atlantic Coast Route in Norway, with main stops in Samsø, Arhus, Frederikshavn, Hirtshals, Larvik, Oslo, Lillehammer, Otta, Ålesund, Trondheim, the Lofoten archipelago, Vesterålen and Tromsø. Main train legs included Cologne – Horsen (DK) and Trondheim – Bodø.
Cycling in Norway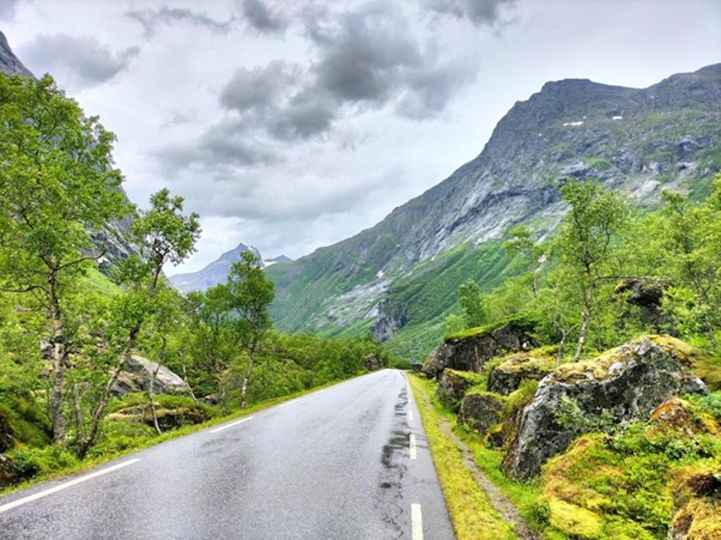 Norway is spectacular. It's wild, remote, untouched at times. And it was extremely calm in terms of other bike tourists. On the Pilgrims Route, despite peak season, there were days I saw perhaps two or three fellow bikers. It only got somewhat busy on the Lofoten archipelago. An incredible archipelago with white sandy beaches and crystal clear water – but also lots of caravan traffic on the main route. That of course, is the main challenge when cycling in Norway. Due to its topography and low population density, there is usually just one main road. That means: sharing it with motorised transport. Often that was just fine because traffic was calm, but at times traffic was quite dense. The more popular the region as a tourist destination, for example around Fjord Geiranger, the more caravans and noisy motorcyclists. Separate cycling infrastructure is still rather rare outside towns and cities, although it is developing. And because of all the mountains and wind it is also very physical. I ate enormous portions to keep me going, but still lost four kilos during that month.
Heading direction Oslo
Norway comes highly recommended as a cycling destination, but I am fully aware that some sections demand one to be fit for the adventure and some extreme conditions.
My personal highlights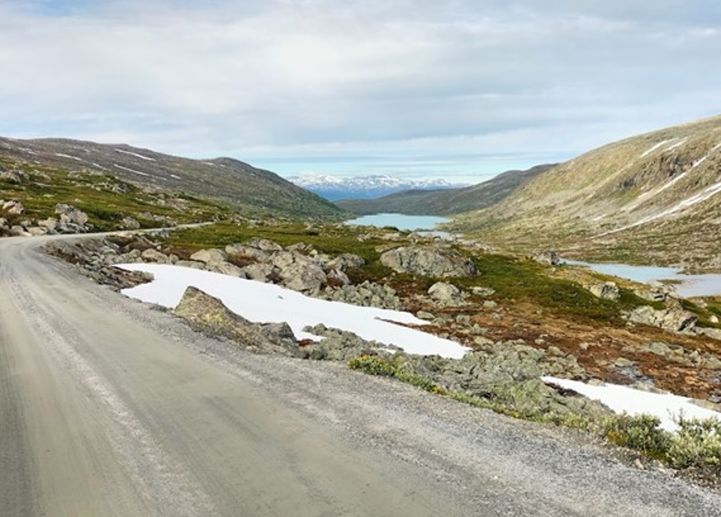 • Cycling on the 258, a dirt track with little traffic, although its promoted as a tourist route. This is where I spent my first night camping in the wilderness, an experience I surely will not forget.
• Cycling in Norangsdalen on the 655. It's a narrow ravine with high and rugged rocks left and right. I loved the incredible green and lush vegetation in the ravine itself. Hardly any traffic, except some sheep. I thought it cannot get more beautiful than that. But I also cycled downhill, perhaps that fooled me.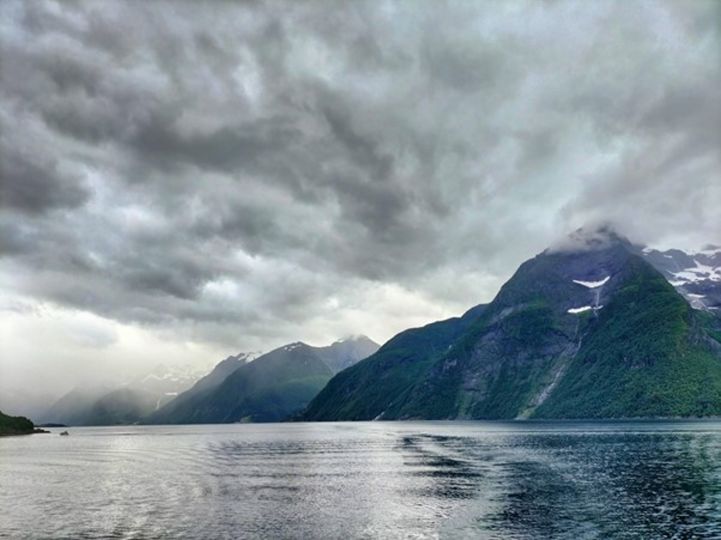 • And then there are the Fjords of course. Okay, Geiranger is beautiful but it is also super touristic where the large cruise ships come in. It's one of the few times I had to pay for the ferry service, usually it was for free. It's also where I fell on slippery stairs because I took photos of the seven sisters (magnificent waterfalls) and then the captain pointed to the waterfall on the other side and was about to lift its secrets when I rushed to the other side, slipped and badly hurt my right elbow. Fortunately not bad enough to have me quit my bike journey. So, my preference definitely goes to Hjørundfjorden where I took a ferry with me as the only passenger. But only after I had to call it up and wait for it for three hours. Later on someone told me about this super informative website www.rome2rio.com which had ALL the schedules of every ferry.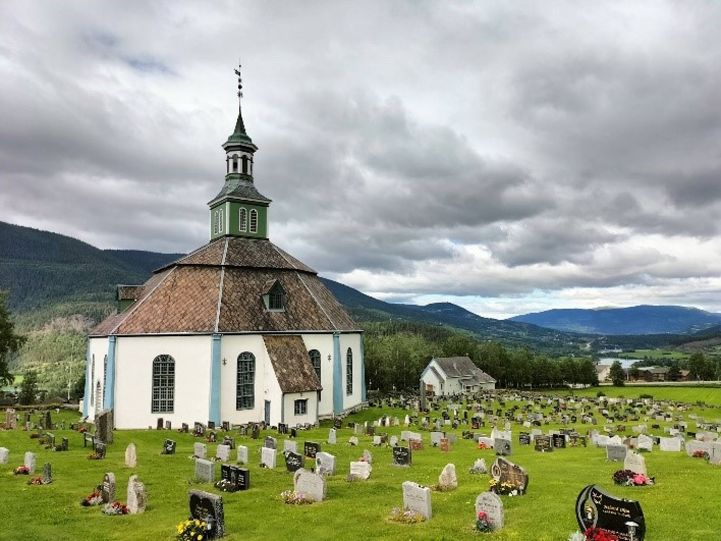 • I also loved the churches along EuroVelo 3 – Pilgrims Route, it reminded me of my pilgrimage more than 25 years ago, hiking parts of the Camino de Santiago. Norwegian churches are mostly made from wood, like the one in Ringebu. But I was also enchanted by this beautiful baroque church in Hundorp, and I loved magnificent Nidaros in Trondheim. This is where Saint Olav is buried, the eternal king of Norway, who is said to have played a major role in the Christianisation of this land. Ever since my Erasmus year in Exeter I have been a big admirer of English-style cathedrals. So, seeing Nidaros, although there was a hefty entrance fee of 14 Euro, was a delight.
Personal encounters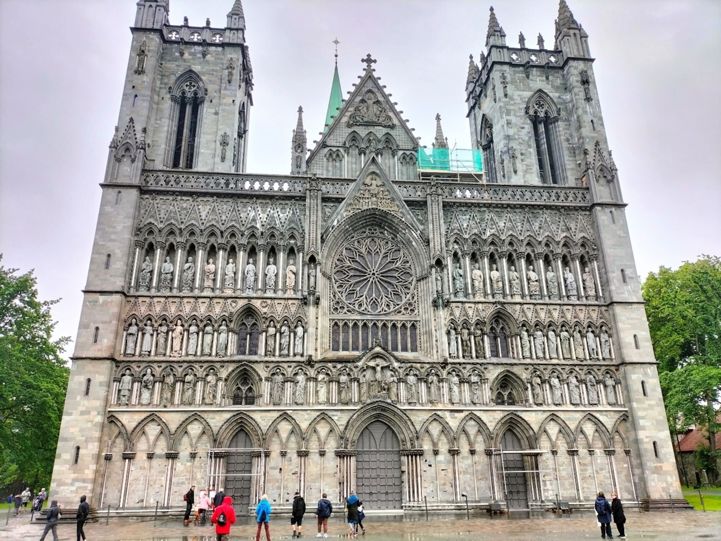 Because there were so few fellow bike tourers, with the exception on the Lofoten, the one I met almost instantly led to a conversation. A sworn-in community that makes you an expert in 10-minute speed-dating. Where are you from (mostly fellow Germans for some reason…)? What were your highlights? Where are you heading to? These sorts of questions (this is also how I learned about the Rome2Rio website).
But sometimes the encounters last more than 10 minutes. On a camping site I came across two Belgians – a grandpa with his 15-year old grandson – who were travelling all the way to the North Cape. Okay, by car, but still. The grandson who lives in Molenbeek along the Brussels canal, in a building I often pass by, told me how he truly enjoyed the time with his granddad. What a nice bonding experience, I thought. I wished I had similar shared memories with my grandpa.
I met two French "girls" on a ferry to Trondheim. "Girls" because they were teachers in their mid-forties, like myself. My instant reaction when I saw them: wow, you are travelling extremely light, their bike panniers were just half full. I quickly learned about the reason: They had neither a stove nor any cookware. They just rung at houses asking for hot water to make a tea. And they travelled with extremely thin sleeping bags. One of the girls confessed to me when the other was gone for a minute that she feared the bike journey perhaps was a little extreme for her companion. Wet, no warm food, not great nights because of the cold. After our arrival in Trondheim, I lent her my sleeping bag as I was staying in a Airbnb. It was a good reason to meet up again the morning after over coffee and a game of chess in one of the trendy Trondheim bars. And what a warm night it was, apparently.
Meeting locals mostly was through staying at someone's house. Because of the rain I stayed in more B&Bs than I had wanted to. I was extremely happy I could stay two nights with Morten Kerr who had served many years on the ECF board. He lives in a beautiful house overseeing the Oslo Fjord offering spectacular views I otherwise wouldn't have seen.
Challenges and lesson learned
I had six punctures and one tire that exploded en route. Luckily I had a spare one. I am not a trained bike mechanic so anyone who has tried to fix a puncture under pouring rain without shelter will agree with me that this sucks. It really does, especially when you are under time pressure because you want to catch that ferry. But you get the job done, and then you can laugh at it.
The weather on a whole was a real bummer. You know beforehand that it can be rainy in summer in Scandinavia. But still you hope for a fair amount of sunshine, don't you? I had a few sunny days at the start as well as at the end – and a lot of rain and maximum day temperatures of around 12 degrees in between. The weather was topic number one on any campsite. And it's the reason I had to make a few substantial shortcuts to my trip itinerary because I really didn't want to cycle in the snow in the mountains. Occasionally I decided to take public transport on legs that I had planned to cycle. My lesson learnt: You have to stay flexible in your mind, adapt to new circumstances, and you will see it will be fine too. Taking public transport bought me some time. Time I could spend chatting, reading, writing my travel diary, enjoying the sights left and right of the route.
The midnight sun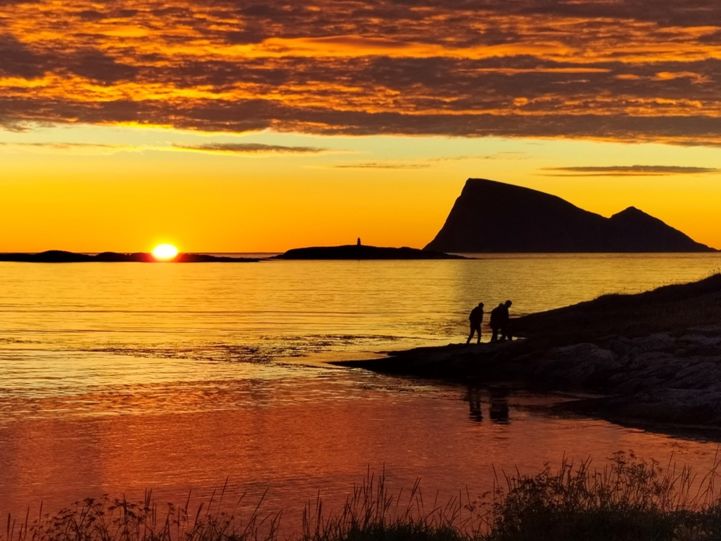 I already talked about my highlights, but the one final highlight was waiting for me at the end as I was leaving the Vesterålen heading towards Tromsø. It was approaching end of July, but here there was still the midnight sun. I did a little detour to Sommarøy, a little fishing village amidst some of the most beautiful sceneries I have ever seen. I pitched my tent on a lovely sandy beach, and enjoyed the sun kissing the horizon around midnight before shortly being on the rise again. It was awesome.
Arriving in Tromsø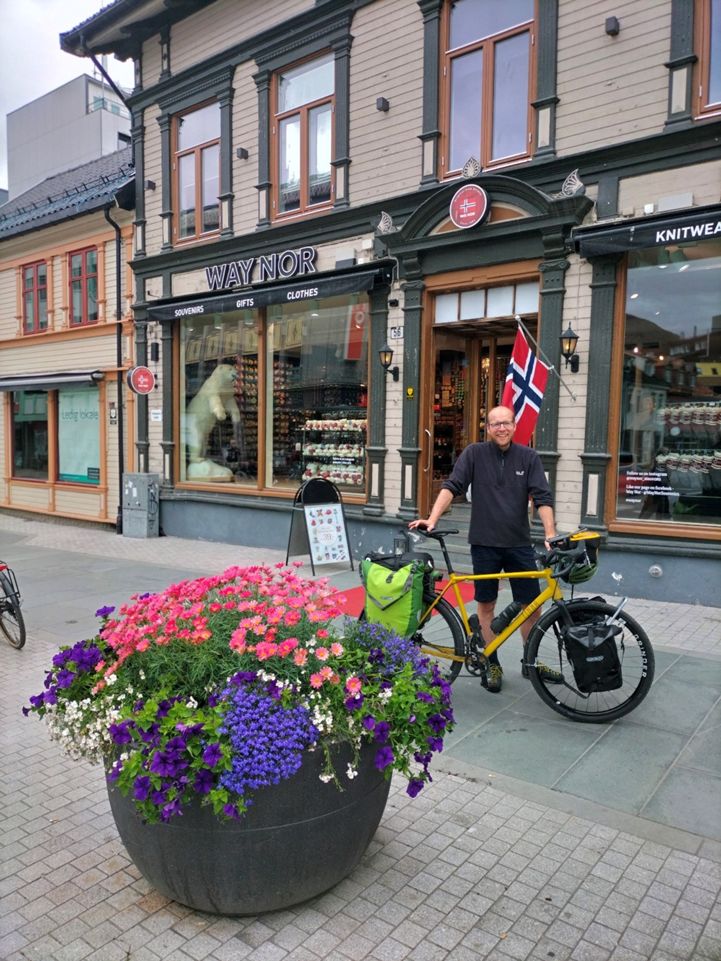 Normally this is when emotions overcome you. A mix of happiness, pride, sadness … But I had one practical questions to solve that required my attention: to organise a bike bag so I could dismantle my bike and send it back to Brussels by plane the next day. Fortunately one bike shop on the outskirts of town had one cardboard box left that my bike could fit in. A taxi would bring me, my belongings and the cardboard to the place I would stay, before then going for that farewell picture to downtown Tromsø. I had made it.
Author: Fabian Küster