Zurück zur Liste
RO
MD
HU
CZ
AT
Cycling home, on and beyond EuroVelo - Part 3/3
Donnerstag, 2. Februar 2023
In the final article of the series dedicated to Paul Anton's cycling trip from Hamburg to his hometown in Romania, Paul shares some useful practical tips on navigating Eastern Europe on a bike. He makes an interesting and humourous comparison between EuroVelo routes and what he calls "EuroYolo routes".
Did you miss the first two episodes of Paul's series? Read the first and second parts on the EuroVelo website.
After travelling along the Elberadweg from Hamburg to Prague, including 400 km on EuroVelo 7 - Sun Route, Paul cycled on greenways to Vienna, where he joined EuroVelo 6 - Atlantic – Black Sea for 300 km to finally reach Budapest. From there, he navigated 800 km to his hometown in rural Romania where he aimed to donate bikes to children. He qualified this last section as "EuroYolo routes" as it is a much more impromptu itinerary, with lots of uncertainties for this last part of his cycling journey.
Practical tip
When riding in Romania, avoid European (marked E) and national roads (marked DN) since they are the most heavily-trafficked and have quite high speed limits. I personally chose to ride on county roads (marked DJ). They are usually not as straightforward and may involve additional elevation and passing through remote villages. But for that extra effort, you may just end up in some really cool and remote locations.
Navigation
Finding your way is nothing you need to worry about when cycling on EuroVelo routes since the paths are well-marked and there are signs everywhere. Since we mostly cycled along rivers, our navigation was obviously pretty straightforward. We only occasionally needed to worry about ferries not running as advertised online - but we considered this to be only a minor inconvenience.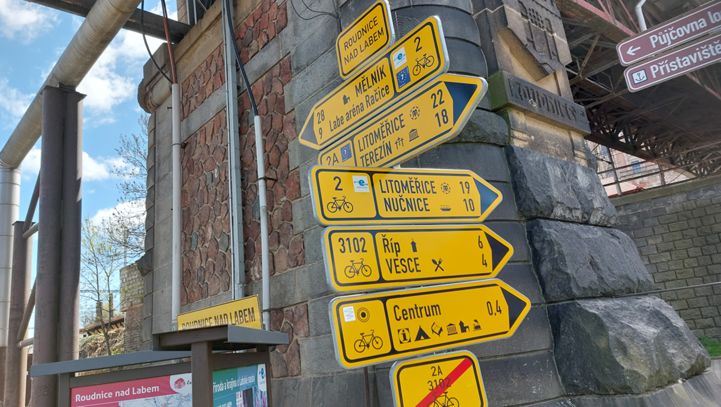 On the other hand, cycling beyond EuroVelo can sometimes feel like an exploratory experience. New challenges may occur right around the corner and new missions get unlocked with every village you pass. However, I personally did not feel challenged by the uncertainty ahead of me. With every unexpected road construction site I would find, I would get happier about my choice of tires.
Turn every obstacle into a reason to celebrate, right?
Practical tip on navigation (along rivers)
Online schedules for local transportation services (such as ferries) are not always up-to-date. Some of them may be seasonal, or simply out of service for other reasons. This may easily end up ruining your plan and estimates for the day.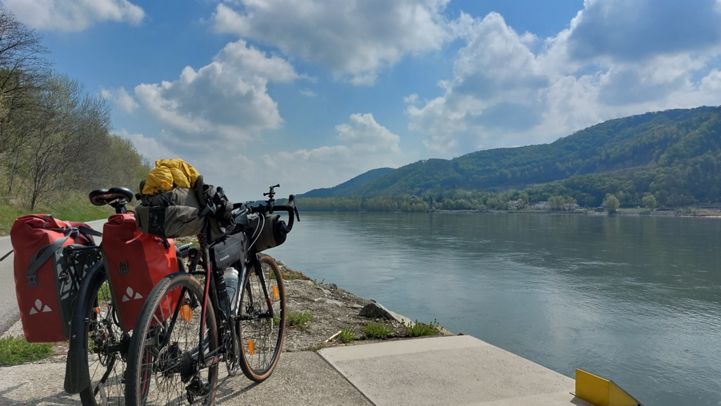 If you have any ferry crossings planned for the day, take into account any possible delays and try to gather as much information as possible from your surroundings. That's actually a great chance to start interacting with the locals and ask for some guidance. Interaction with locals I find interaction with locals to be one of the main ingredients of any memorable cycling trip, be it long-distance or short-distance. You call an Airbnb host, and on the receiving end, there could be someone who doesn't speak any of the languages that you do. You meet someone new and you try to pull out some old remnants of languages you could once speak. There will be confusion, getting lost in translation, and maybe even chaotic sign language. The element of surprise at its best - how can this not be the best source of amusing memories?
For this reason, I personally never miss a chance for interaction.
I could not say EuroVelo is inviting spontaneous interaction, since everything is so nicely laid out and clear for the traveler. Why would anyone ask for directions if all paths are clearly marked? For me, it all felt like a guided experience where it's hard to get lost and where there is no need to ask for help.
However, meaningful encounters still happened, on their own account. Such as the gentleman riding an electric bike who stopped us by saying in funny-sounding German: "Stop pedaling this way, the ferry is not running today". We were grateful that he'd saved us a detour of at least 20 km.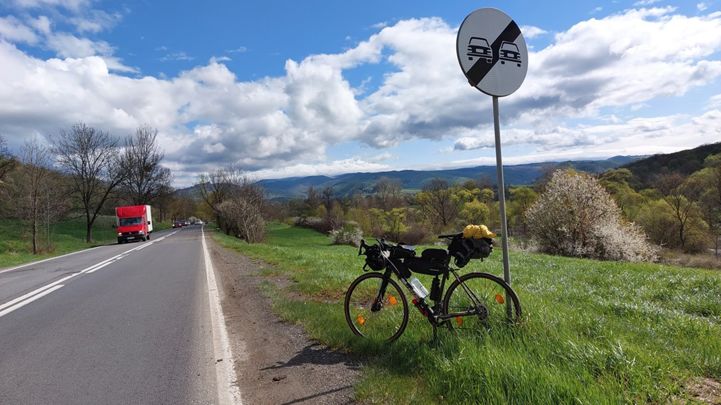 When riding beyond EuroVelo, however, uncertainty invites a bit more interaction with the locals. This is something I'd discovered in previous summer bike trips in countries like Croatia and Portugal. Stopping to ask for water, inquiring about potential best places for camping, or simply confirming the overall direction - there are countless reasons to stop for a chat.
Since I rode through my own country for most of the EuroYolo section, I may have indulged in one too many conversations on the side of the road. I particularly enjoyed observing the different reactions to my seemingly absurd goal. I also loved hearing about my interlocutors' own cycling stories - it seemed as if seeing a cyclist reminded everyone of their own memories on two wheels.
I can only judge the way cyclists are perceived on (and beyond) EuroVelo by my own experience and the reactions I observed on my trip. On the EuroVelo, I felt normal, since I was just one of many other cyclists passing by year-round. Beyond EuroVelo, I felt exotic, brave, and a little crazy.
In a deep forest in Transylvania, I met a merry group of hunters, gathered around a clearing in the woods. Obviously amused at my distressing questions about the chance of encountering wild animals, they quickly came up with just the right cure for me: accepting a sip of their water-looking potion would make me brave enough to keep pedaling. I am still not sure if they could fully understand the logic behind my refusal.
Practical tip on interacting with locals (in Romania): If you're ever in Romania and offered a drink, don't just blindly accept it. At least smell it first, before taking a sip. Otherwise, refuse politely, and don't worry, there'll be other offerings soon.
Conclusion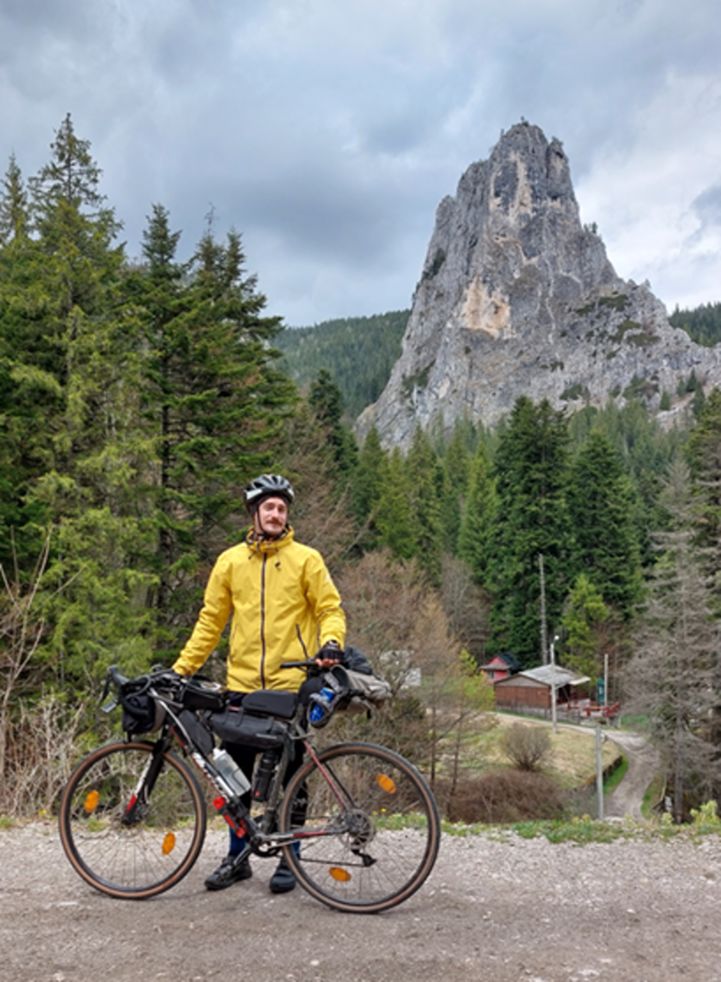 There are still other aspects worth discussing when planning long bicycle tours on and beyond EuroVelo. The "analysis" above is by no means exhaustive and may not fit everyone's planning needs. Instead, it is meant to summarize the most important aspects which were relevant for my own goal.
Cycling on and beyond EuroVelo in the same trip was a truly valuable experience. In the process, I learned to better understand and appreciate the differences between these two worlds.
EuroVelo feels a lot like a guided experience, where many things are already taken care of. There's the route, the road signs, the isolated cycle path, and the viewpoints. All you need to do is bring your bike and your mood for cycling.
On the other hand, EuroYolo feels more adventurous. It may consume some more energy for planning and getting things right. But when you do, the rewards might simply just blow you away.
In the end, I also managed to find the answer to my initial question: What to do when you want to cycle somewhere, but there are no cycle paths leading there? Just embrace the uncertainty and start pedalling. You'll figure it out on the way.
Oh, remember my crazy fundraiser goal? More than 65 friends donated, and we reached the amazing sum of €2,300. This means around 50 kids from rural Romania will get a new bike and a chance to pedal around. Awesome, right?
Author: Paul Anton
As a Romanian expat living in rainy Hamburg, Paul is always ready for a bike ride somewhere sunny. He loves exploring different outdoor activities as means of integration and exploration of new cultures. Nowadays he is fascinated by urban mobility, which he is documenting (almost daily) on his Instagram account - @aipoll.