Zurück zur Liste
BE
Discovering Europe - and yourself - through cycling
Mittwoch, 23. Februar 2022
The benefits of cycling for our physical health are well known. But did you know that cycling can bring much more to your general wellbeing?
A feeling of freedom. A connection to nature. Life-changing adventures. These are just some examples of how travelling by bike can contribute to a general feeling of wellbeing for our psychological, social and physical health.
Read on to find out more about these intangible benefits of cycling trips and get some tips to get started!
Cycling tourism combines the many health benefits associated with outdoor exercise with those achieved through travelling and exploring the world. Travel does not only enhance your happiness, but helps your brain function better and boosts creativity. Immersing yourself in new cultures increases your mind's ability to move between different ideas, think more deeply, and integrate thoughts. "Foreign experiences increase both cognitive flexibility and depth and integrativeness of thought," says Adam Galinsky, psychologist professor and author of numerous studies on the connection between creativity and international travel.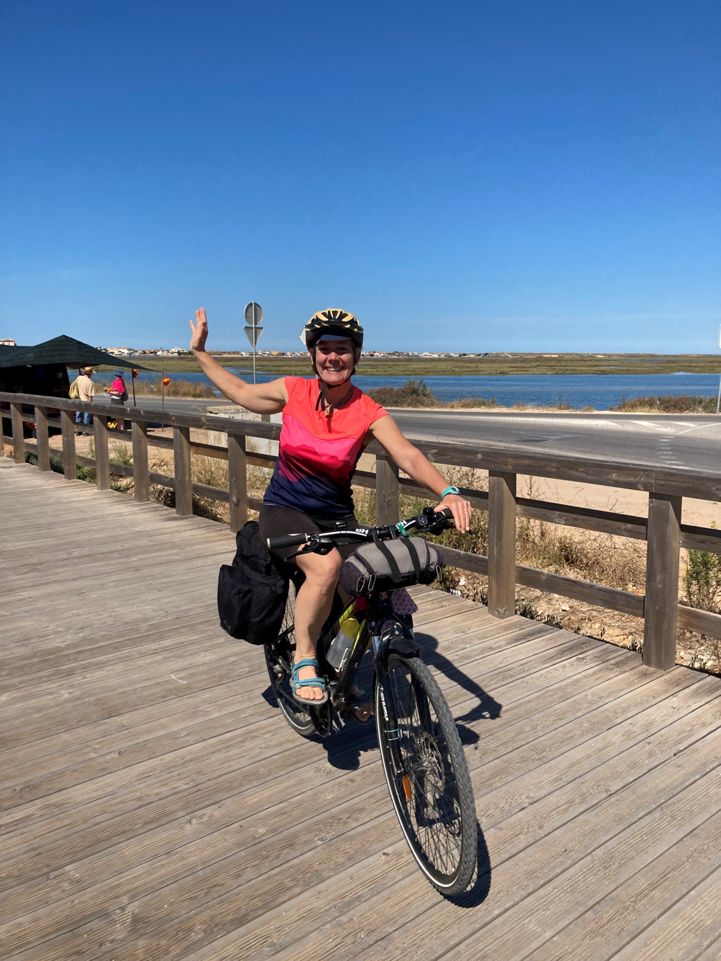 You probably already know somebody, or maybe even have experienced it yourself, who has undertaken a long distance solo journey after passing through a difficult time in their lives or just for finding personal inspiration, reconnection, and / or purpose. Planning such a trip (either walking or cycling) to discover a new land and a new self is already part of the collective imagination and its therapeutic possibilities and contributions to personal growth have been experienced through history.
The need of escaping the rush and anxiety of the modern lifestyles and all the threads that these ways of living bring to our mental health, pushes many people to dream and pursue an adventure that connects you to nature and the wilderness, forcing you to address the present moment and helping you to achieve a serene state, which aligns body, mind and emotion.
A good example of journeys that have attracted many travellers with a purpose throughout history are those that follow pilgrim routes. The European continent is home to some of the most renowned pilgrim routes in the world and some of the EuroVelo routes follow their path, most notably EuroVelo 3 – Pilgrims Route and EuroVelo 5 – Via Romea Francigena. These offer a great opportunity for a slow and low impact journey full of personal rewards, with opportunities to explore your spirituality or simply immerse yourself in the history along one of these fascinating trails.
Where to get started? A story from a lifelong pilgrim and EuroVelo traveller
Sylvie Francotte, is a life-long pilgrim, a mum, an entrepreneur and the creator of Radio Camino: a website full of tips and inspiring stories to help people to engage in walking 'El Camino de Santiago'. The first time Sylvie decided to walk all the way to Santiago from Belgium was back in 2008, when she turned to walking after experiencing both the grief of her father passing but also gratefulness when her mother recovered from serious illness. After a very rewarding and insightful experience of 9 months, she decided to walk the 'Camino' again, this time with the idea of giving back all the love she received, and that resulted in a life changing experience.
Some years later in 2016 she decided to jump on a bike for another long internal and external journey, and to experience what it is like to be a cycling pilgrim! At first she planned to take again the Pilgrim's Route (EuroVelo 3) from Namur in Belgium to Santiago de Compostela in Spain, but as she cycled she decided to change her destination, something that is possible with a bike, as you have the capacity to cover many more kilometres than when walking. She decided to use this freedom to explore and take alternative routes.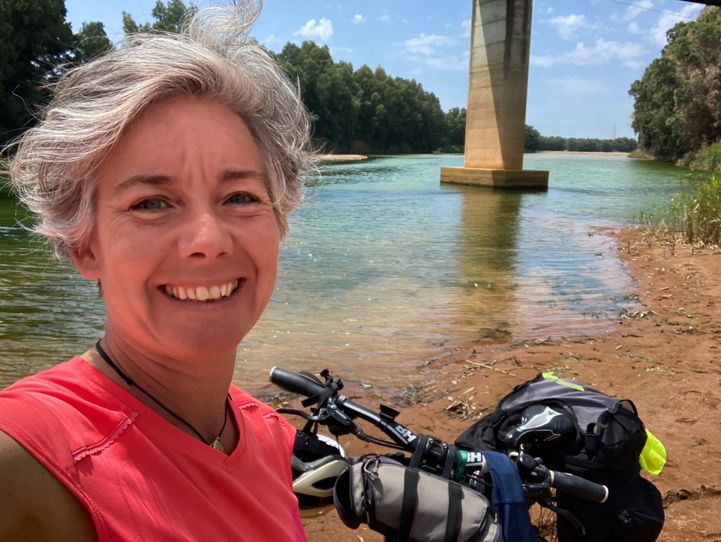 'What cycling shares with walking is the possibility to experience a deep contact with the environment where we are travelling.'
In 2019, when planning a new cycling trip at home in Namur, she felt very inspired of reaching Trodheim in Norway – the other end of EuroVelo 3. She liked the idea of completing the route that connects Galicia (Spain) to Trondheim (Norway). Once she started she diverted from the route many times, exploring other routes like EuroVelo 5 and EuroVelo 19 – Meuse Cycle Route. And she continued discovering EuroVelo routes as she changed the direction of her trip depending on the weather conditions, her level of energy and what she felt like discovering at that moment. Once she reached Trondheim she then cycled all the way back to Belgium.
When Sylvie plans a trip she really takes a lot of care of her personal wellbeing, she likes to travel light and listen to her body. She also has to take care of her knees and enjoys the call of taking time and being a slow traveller, stopping as many times as needed, specially to swim in lakes and rivers. For Sylvie your physical condition should not stop you from embarking on such a trip, as you can follow your own rhythm. It helps to really listen to your body's needs and not to be inflexible with the number of kilometres that you should be cycling per day. The biggest exercise is to mentally get ready for the trip, detaching yourself from expectations and not to carry a big worry that prevents you from being able to disconnect (like working commitments, etc). That attitude will help you free your mind and engage in the journey and into living the experience to the fullest, which in the end is what contributes to a feeling of personal fulfilment.
For Sylvie, one of the main appeals of this way of travelling is the idea of crossing borders on a bike and meeting friends at both sides of the border:
'The feeling of connection and shared humanity when reaching a new country and encountering welcoming people is an amazing, heart-warming experience. When cycling you have to stop to meet people, or ask for help, cyclists are always friendly. Discovering Northern Europe's cycling infrastructure was a great experience. I always felt safe and comfortable.'
Last summer Sylvie landed in the airport of Faro in Portugal's Algarve with her bike, Brice, and no return ticket! She had the idea to let herself be guided by the paths of Saint James and the EuroVelo Routes. She eventually reached Rome via EuroVelo 1 and EuroVelo 5, having crossed the Pyrenées and the Alps and then returned west to Vézenay in the French Bourgogne. In total, she crossed 6 borders and travelled 4566 kilometres during her over 2 month odyssey! Find out more about Sylvie's trip here. Follow @radiocamino on IG and FB.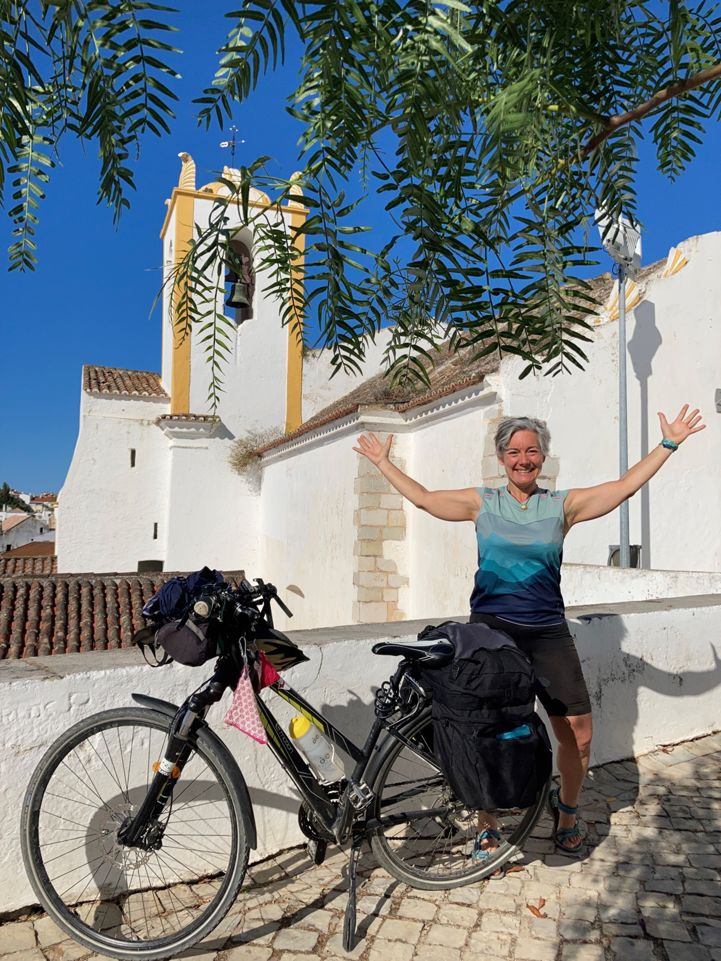 Exploring European pilgrims routes with EuroVelo
The northerly end of EuroVelo 3 - Pilgrims Route starts in Trondheim, Norway and goes south following St Olav's Way. The stretch from Selånger in Sweden to Stiklestad in Norway marks Olav Haraldson's last journey before the historic battle at Stiklestad in 1030. After crossing into Denmark the route then follows the Hærvejen, meaning the Oxen Way, an ancient trackway that runs from Viborg via Flensburg to Hamburg. This ancient road is a centuries-old pilgrim's route of more than 500 kilometres of hiking and cycling routes passing alongside burial mounds and runic stones. Further south the Saint James The route will give you a taste of some of Europe's famous pilgrims routes including the Way of St James (Camino de Santiago) and along the roughly 5,300 km-long way you will be able to discover some of the continent's most impressive religious buildings, including the magnificent cathedrals of Cologne, Aachen and Santiago de Compostela. Find out more here.
EuroVelo 5 – Via Romea (Francigena)
For over a thousand years, pilgrims have been travelling all the way from Canterbury in England to Rome. After the Eternal City, some continued on to Jerusalem, via the port of Brindisi, along the ancient Via Appia. Now, you can follow in their footsteps by cycling EuroVelo 5, the 3,200 km version of this legendary route.
Our route passes through 7 different countries and links both modern and ancient sites: with many cathedrals, churches, monuments and museums along this route combining with the major European Institutions in Brussels, Luxembourg, Strasbourg. Whether you want a short break or a long adventure, EuroVelo 5 offers something for everyone! Find out more here.
Author: Marta Orihuel